Filmmaking is about more than just holding a camera in front of people reciting their memorized lines. You need to think of everything from the visual narrative to the audio atmosphere to the technical aspects – you control every element, so you need to get them all correct!
Whether you've been filming footage for ages or you're just making the switch from stills to video, it's important to recognize the unique qualities and characteristics of the moving medium.
• To elevate your game, check out the best cameras for filmmaking
Particularly for photographers moving into videography, you'll encounter new layers and challenges that don't exist in stills – such as sound. But there are many ways in which you can use your existing skills and technical knowledge in moving images, so be aware of the basic rules but always stay creative!
Pro tip: Pay attention to the cinematic elements in movies you watch. The composition, visual language and storytelling are the main things to think about.
5 filmmaking do's
1) Make a plan
Good preparation is the key. Planning ahead will help you stay focused while you are shooting all your scenes – make a shot list and stick to it! This is the visual script for your film, and reminds you exactly what you need.
2) Use a tripod
Nothing is worse than shaky video, so unless you're deliberating shooting handheld (in which case, make sure to use one of the best gimbals) ensure that your camera is securely fixed on a tripod.
3) Film in the right light
Choose locations that offer plenty of light. Shoot in the early morning or late evening to get a softer light. If the light isn't right, come back when it is – or bring a photography lighting kit and add supplemental light.
4) Record clear audio
Sound is an essential part of your video story, so make sure to invest in an audio recorder and make sure to get the best microphone possible. Check the recording levels while filming – it should be neither too high nor too low.
5) Use a variety of angles
Don't stay static; add a bit of variety to your shoots. Cover key scenes from a range of different angles to offer the viewer some interesting insight, and to give yourself options in the cutting stage.
5 filmmaking don'ts
1) Overshoot
Never lose focus on your content. Concentrate on sticking to your storyboards and shot lists rather than spontaneously recording extra scenes that you didn't plan for.
2) Stretch run
Avoid creating a long introduction. Otherwise, viewers are likely to lose attention and are less likely to watch the entire video.
3) Explain everything
Avoid making it too easy or too obvious for your audience. Instead of getting the actors to explain everything, let their actions speak louder than words. "Show", rather than "tell".
4) Lose focus
This applies to you, but specifically your camera! Traditionally film crews have a focus puller, whose sole job is to maintain focus. Whether you're relying on manual focus or trusting your camera's autofocus, always be very aware when changing perspectives or moving the rig.
5) Zoom in
Don't be tempted to zoom into the scene during key moments. Unless it's a very deliberate stylistic choice, it looks unnatural and attracts unfavorable attention.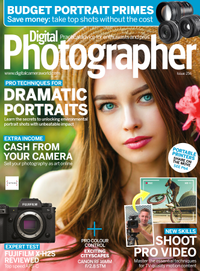 Whether you're a part-time amateur or a full-time professional, Digital Photographer aims to challenge and motivate you to take your best shots. Our in-depth features are designed to take your photography to the next level - and this is a great gift for anyone who wants more inspiration for their picture taking.
You might be interested in the best cinema cameras along with the best cine lenses and best anamorphic lenses to use with them. And if your sights are set on streaming, make sure you're using one of the best Netflix-approved cameras.